Boise

Boise is a lively city with a vibrant nightlife scene. Families and professionals alike flock to Boise. Recreation is bountiful, with many shops, parks, bars, and cultural institutions accessible to residents.

Idaho Botanical Garden is a mecca for native plant species. The center features over 300 species of plants with multiple gardens, showcasing perennials from all over and of all climates. A ski destination in the wintertime with mountain biking, hiking, and other activities available year-round, Bogus Basin is a premier destination for active folks. Zoo Boise is a fun and educational place for kids and adults alike, with various animals to study and conservation efforts. An ulterior transportation mode and local favorite, Boise River Greenbelt is excellent for fishing, viewing wildlife, and simply taking a minute to relax in a natural setting. The dynamic Ridge to Rivers Trail System makes getting outdoors simple with their interactive map.
Besides the day-to-day recreation available, Boise hosts community events throughout the year, making it a cultural haven. With one of the nation's largest communities of Basque citizens, Boise celebrates its heritage with The Basque Block, a dynamic, living ethnic neighborhood. A highly acclaimed annual event is Art in the Park presented by the Boise Art Museum, a three-day event full of delicious food, contemporary art, and hands-on activities for kids. First Thursdays in downtown Boise is a monthly gathering to explore shops, dining, art, and entertainment in a creative way. Held annually, Treefort Music Festival welcomes over 350 talented musicians to the stage for a weekend of fun.

There are countless restaurants available in Boise, from casual and inexpensive to fine culinary establishments. Start your day with an Irish buttercream coffee and veggie bagel from the beloved Big City Coffee & Cafe. With an approachable yet upscale menu with Latin flair, Barbacoa has tasty braised short rib pizza and BBQ duck quesadillas. Grab a bite to eat at Little Pearl Oyster Bar, a newly opened restaurant spearheaded by Boise-born Cal Elliott, a Michelin-starred chef whose recipes have been published in GQ and Food & Wine Magazine. Once you've enjoyed a delicious meal at one of the many eateries, head to a local bar or club for an eventful night out.

Boise is right for you if you're looking to move to a city with a close-knit atmosphere.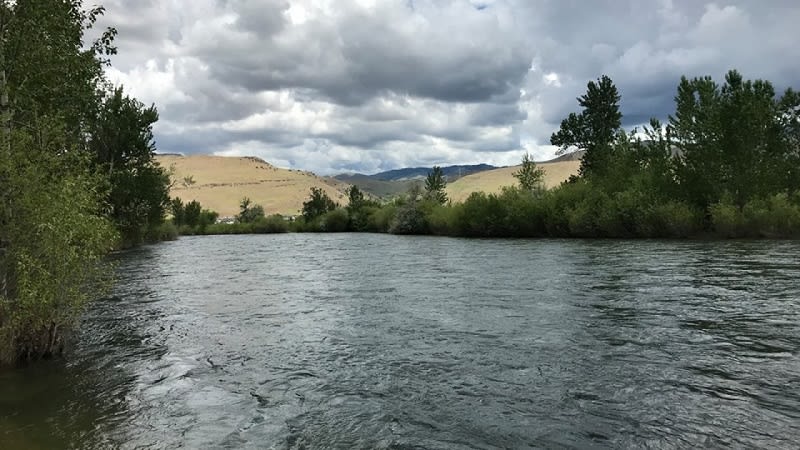 Credit: KIVI-TV
Eagle

Eagle is a small town with an array of appealing outdoor recreation opportunities. The historic downtown area is teeming with shops and unique restaurants, making for a great mix of indoor and outdoor play. Being in proximity to Boise makes this location ideal for small-town lovers who can opt to enjoy metropolitan activities at the drop of a hat.

An athletic and eventful day out is achievable with the basketball hoops, a bike trail, picnic areas, and the 12,500 square-foot skateboard park at Ada/Eagle Sports Complex. Enjoy a day out with friends and family at Eagle Island State Park, featuring a swimming beach, a picnic area, and over five miles of trails for hiking, walking your dog, or horseback riding. Spend a relaxing day on the green at the top-rated public Banbury Golf Course. Head to Gateway Parks for an exhilarating afternoon of tubing, skiing, and snowboarding with your loved ones. If you're looking for an adventure in a safe and enclosed setting that makes you feel like you're almost anywhere imaginable, head to VR1 Arcade for an unforgettable virtual reality experience.

Dining opportunities are vast and varied in Eagle. Wake up with a latte, housemade scone, and breakfast burrito at a family-owned restaurant The Perks of Life. Savory BBQ ribs and tri-tip are served in a laid-back atmosphere at Bodacious Pig. Date night is made easy with chef Frank Bacquet at his European-inspired Bacquet's French Cuisine Restaurant. A tranquil city with unique outdoor destinations and fabulous food, Eagle is a one-of-a-kind community.

Eagle is right for you if: you love small-town charm with big-city conveniences.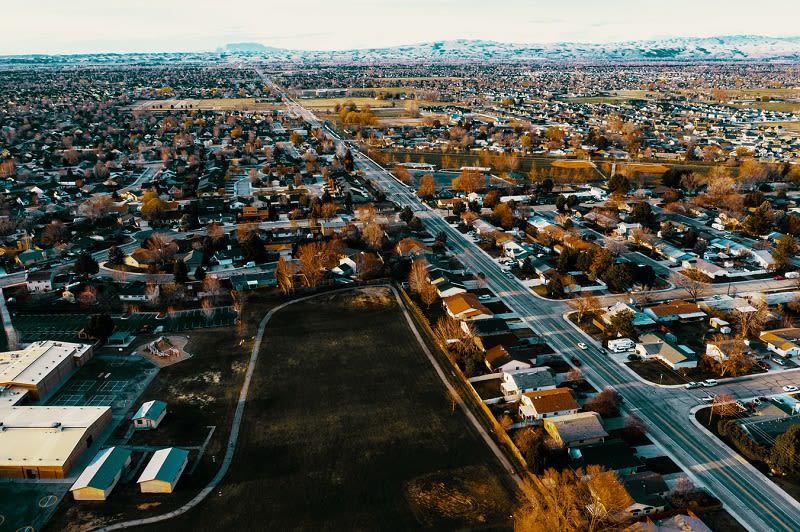 Meridian

Family-friendly with scenic mountain views, Meridian is a premier destination for professionals and kin. Being the second-largest city in Idaho with a village of shops and restaurants makes it a desirable location.

The Village at Meridian is a premier destination where you can get all your retail needs underway, enjoy a delicious meal, and even catch a flick at the cinema. With big-brand names like H&M, Urban Outfitters, and Athleta, shopping for the whole family is a sinch. From bumper cars to laser tag, miniature golf, to go-karts, revel in a day of endless fun with your family at Wahooz Family Fun Zone. A massive park with activities galore to match, Julius M. Kleiner Memorial Park features a playground, fishing pond, community garden, sand softball, and so much more for an adventurous day outdoors with the fam.

Once you've gotten your fill of the great outdoors, share a pie with your loved ones at Louie's Pizza, an Idaho stronghold since 1965 originally established in Sun Valley. Epi's Basque Restaurant is a locally-owned favorite, boasting a dazzling menu of traditional Basque fares alongside an extensive drink menu. You can luxuriate in a posh dining experience complete with rich wine and luscious charcuterie plates at Divine Wine, Cork & Fork.

Meridian is right for you if you're a young professional or a growing family craving city amenities and outdoor retreats in equal measure.
Star

Rural and constantly evolving, Star has a tranquil way of life, attracting retirees and families alike.

A hiking destination running along a scenic river, Star River Walk is a lovely way to get outdoors, see the native perennials, and relax. Hit the fairway and enjoy some sun at the public River Birch Golf Course, where golfers of all skill levels are welcome. For a break from the calm and collected daily life in Star, head to DZONE Skydiving for a thrilling, once-in-a-lifetime skydiving adventure. They also have a DZONE Skydiving Student Program to ensure students soar safely with proper technique.

Charming eateries and pubs weave throughout Star. For an array of fantastic wine, beer, and craft cocktails in a friendly European-style atmosphere, drop by Helina Marie's. With events, parties, bingo, and more constantly happening, you're sure to have an eventful and entertaining night out. Start your family's day on a great note with breakfast at Star Country Cafe.

Star is right for you if you're looking for a slower pace of life and a quiet, family-focused community.
Nampa/Caldwell

Nampa and Caldwell offer different appeals to inhabitants, as Nampa is the third-largest city in Idaho, and Caldwell has a country feel with modern amenities.

Peer into John Paul's love of airplanes with various aircraft to study and appreciate at the Warhawk Air Museum in Nampa. Discover the wonders of the wetlands, riparian forests, croplands, migratory wildlife, and snake river islands at Deer Flat National Wildlife Refuge. Caldwell's own Babby Farms is a non-profit organization with opportunities for people of all ages to interact with animals for a pleasant hands-on experience. In Caldwell, the College of Idaho features the Whittenberger Planetarium, which hosts children and young adults' programs to educate them on planetary wonders. For a look into Idaho's past, head to Caldwell's Our Memories Indian Creek Museum. Avid academics can take advantage of The College of Idaho and the school's incredible campus facilities, including the Langroise Recital Hall, Whittenberger Planetarium, and Orma J. Smith Museum of Natural History. Visit Koenig Distillery in Caldwell to view their new facility, learn about the spirit-making process, and enjoy samples in the tasting room.

If you're dreaming of a night out, the Ford Idaho Center is always hosting something huge. With a sports arena, amphitheater, and horse park, there is always something exciting on the agenda. For an entertaining and low-key family night of buttered popcorn and a movie, check out Caldwell's The Reel Theatre.

Restaurants of varying cuisines are available to Caldwell and Nampa residents. Enjoy breakfast complete with world-famous biscuits and gravy at Caldwell's Mr. V's Family Restaurant. For a tasty meal of fresh fish and chef's special rolls, head to Sushi Sushi in Nampa. Grab Mexican favorites like beef or chicken flautas and shrimp fajitas at Nampa's Jalapenos Bar & Grill. BRICK 29 is a fabulous farm-to-table dining establishment featuring a great wine menu and local fare. To experience the heart of Idaho wine country, head to Sunnyslope Wine Trail in Caldwell — featuring 17 local wineries, this is a must-visit. At the locally-owned coffee shop Flying M Coffee, all beans are roasted in-house, so you know you're getting the freshest cup of coffee possible.

Nampa and Caldwell are right for you if you dream of outdoor recreation without sacrificing city living.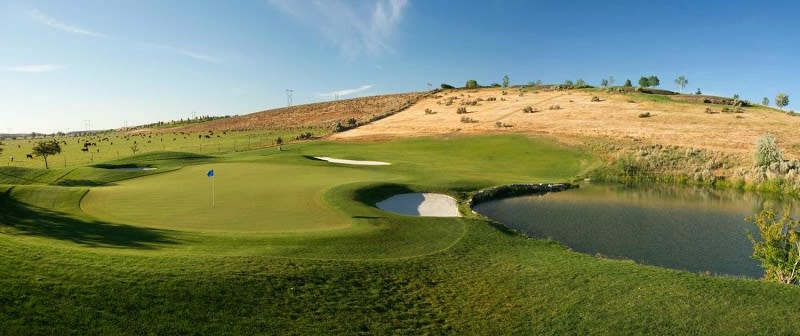 (Credit: ValPons)
Kuna

A small and fast-growing town where neighbors greet you on the street, a good sense of camaraderie and community is the norm in Kuna.

Kuna is a quaint location with peaceful energy about it, fit for families and anyone seeking a life away from the city. Swing a few balls in the lush green surroundings of the championship course of the Falcon Crest Golf Club's championship golf course. This area is rich with natural resources and offers a multitude of ways to enjoy it. Visit the Morley Nelson Snake River Birds of Prey National Conservation Area for a truly stunning bird-watching experience. Enjoy a hike and reflect while reveling in the beautiful wildlife and natural environment of Dedication Point Overlook. Get out in nature in a very different way at the large and popular Black's Creek Public Shooting Range. This location provides a safe space for over 10,000 sport shooters and hunters each year.

Try some delicious Peruvian fare of various fresh vegetables, meats, and ceviche at Lima Limon. Enjoy a terrific happy hour on the weekdays, delicious Mexican dishes, and can savor different tequilas at Enrique's Mexican Restaurant. Housemade cinnamon rolls, gourmet scones, steamy coffee, and tasty lunch wraps are all on the menu at Moxie Java.

Kuna is right for you if: you daydream of outdoor adventures in a quickly-growing community.


Are you interested in learning more about Treasure Valley real estate? Find your dream property in one of these fabulous Ada County communities with Oliver O'Gara Real Estate's help.